Read the case study from a cinema group, and find out how to quickly remove spills from various floor types with an eco-friendly, and highly efficient solution from Brady Corporation…
The cinema group needed a clean and efficient solution to remove various small spills in cinemas, both behind the scenes and in publicly accessible areas. Between shows, every spill from soda, sauce or other food & beverage products needs to disappear to welcome the next group of customers coming in for a great movie experience.
The clay-based granulate the cinema group was using created too much dust and proved too messy, even for behind the scenes areas, if not applied and removed immediately. In most of the publicly accessible areas, it was not even an option, as the risk of staining carpet floors with the clay granulate was just too high.
Solution: Fast and clean spill removal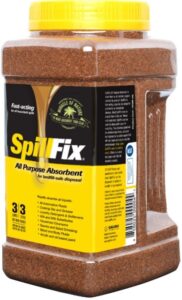 Brady Corporation proposed its eco-friendly SpillFix granular that can safely be used to remove spills from the most porous or uneven surfaces, including carpet.
SpillFix is a 100% natural product made out of coconut coir. Thanks to its lightweight honeycomb structure, SpillFix immediately starts absorbing any liquid.
On top of this, 2.8 kg of SpillFix can absorb the same spill volume as 22.5 kg of clay based granular, so a lot less product is needed to achieve better results.
Unlike many clay-based granulars, SpillFix does not leave any slick residue behind and can be mopped up with a few swift swipes.
Results: Efficient spill removal between shows
The cinema group can now remove spills from sodas, sauces or other food & beverage products in a much more efficient way. SpillFix can simply be poured on any spill and vacuumed when dry shortly after, no matter whether the spill occurred on a linoleum or carpet floor.
How to combat spills effectively
Brady's Spill control guide book offers ideas on how to prepare for potential spills and what to do in case of a spill. The guide also includes a number of solutions that can be deployed to prevent spills from spreading and to remove spills.