A report from Market Research Future predicts that the global FM market will grow at a rate of more than 13% between 2016 to 2022, to reach total revenue of $60 billion.
The forecast encompasses Real Estate, Education, Government, Retail and Healthcare and includes Project Management, Inventory Management and Operations Management among its services.
Market Research Future says the major growth drive in FM is changing working culture in organisations, which in turn is demanding more efficient facility management services.
Other factors include the burgeoning cloud technology market, a growing trend towards outsourcing FM operations, increasing commercial real estate properties and a growing focus on buildings asset & space management.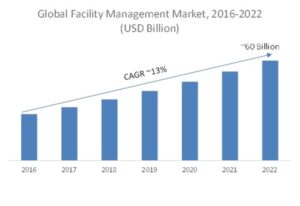 The report also listed what it considers to be the major FM players globally:
IBM Corporation (US)
Oracle Corporation (US)
SAP SE (Germany)
EMCOR group, Inc. (US)
Aramark Corporation (US)
FM System, Inc. (US)
CA Technologies, Inc. (US)
Accruent, LLC (US)
Interserve Plc. (UK)
Trimble, Inc. (US)
More information on the report can be found here.