Redesigned from the ground up to cater for the growing industry, the Sports and Leisure Forum 2017 will be the ideal opportunity to forge valuable partnerships and learn about the vibrant sports and leisure industry.
Formerly known as the Sports and Leisure Facilities Forum, the fresh relaunch will focus on an intimate audience of just 45 VIP delegates, as well as featuring some of the industry's most trusted suppliers.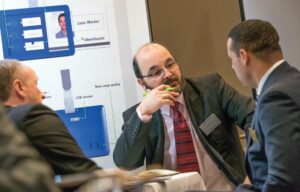 Join the massive community of operations, leisure and facilities managers from across the UK for two days of tailor-made, pre-matched meetings, seminars and dining.
Attend a range of seminars from some of the industry's most dynamic and innovative minds, with each session offering a CPD certification.
Taking place at the Radisson Blu Hotel on June 19th-20th, the event will give you the opportunity to engage with industry professionals to debate and connect in a uniquely bespoke event featuring drinks, dinner and discussions that'll prepare you for the year to come.
For more information about how to get involved in the event, contact Gillian Small or call us on 01992 374073