Consolidate your water in, waste out services with one trusted partner
By Metro Rod
Covid-19 has placed significant pressure on most industries within the UK, in a variety of different ways. In facilities management specifically, operators are juggling the challenge of managing multiple supply chains with several contact points against a stripped back workforce and budget, and a solution is needed to help them maintain the expected levels of efficiency.
To support facilities management providers feeling this strain, Metro Rod offers a one-stop-shop for all water in and waste out needs. Providing one point of contact, one nationwide price, and consistent invoicing and reporting across a multitude of services. Meaning we can reduce the struggle of managing multiple suppliers and save you both time and money.
Why choose Metro Rod?
Our commercial drainage and pump engineers– who are available 24/7/365 – are trusted by facilities managers across the country for maintenance and repair services, and we have vast experience in providing a first-rate service for FM providers working on properties across the private and public sectors.
With almost 50 depots nationally, we're able to access 85 per cent of the UK's commercial properties within just one hour, meaning we're already on the doorstep of your customers. We can deliver all your existing water in and waste out services in one consolidated package, saving you the hassle of managing multiple contractors.
Meanwhile, our experienced engineers – who receive ongoing, in-depth training every year – truly are experts in their field and can quickly diagnose and resolve issues, therefore minimising the inconvenience to your clients, staff and customers. Our exceptional first-time fix and time to fix rates ensure that costs incurred are minimised.
Plus, we're a digitally-enabled company, meaning we can provide instant visibility of any work, through our customer portal – Connect. We can also integrate directly with your own internal systems and provide additional reporting to ensure you are not only kept up to date but have a transparent view of all of the work undertaken. This enhanced reporting provides an isight into where costs are incurred and allows us to recommend intelligent solutions to reduce drainage problems and drive savings.
All combined, this means we can give you the best possible value for money with one point of contact for all services. Removing the need to juggle multiple supply chains and saving you valuable time and money.
Metro Rod's services
We're about more than just drains. As well as the more traditional systems, we're also experts in water pumps and asset mapping. Our full range of services includes: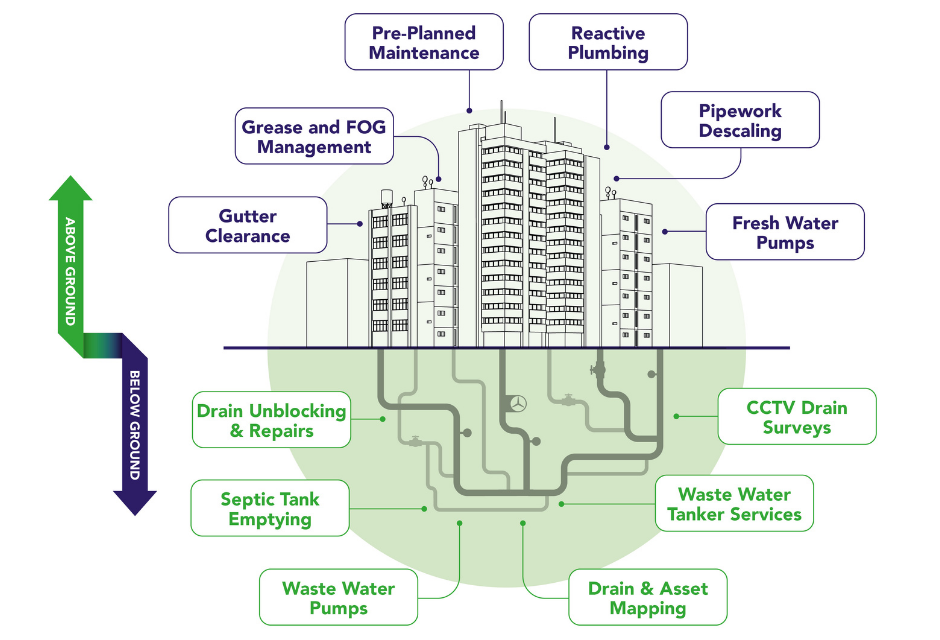 All of these services can be worked into a Pre Planned Maintenance schedule – a service plan for routine maintenance which takes place at regular intervals across the year, to prevent the problems which regularly occur in these systems. For example, ongoing scale or grease build-up in pipework can lead to overflows and blockages, which often result in emergency building closures and costly engineer call outs – something both you and your customers will want to avoid. Maintenance might not be top of your list but in the long term, it cuts down the number of emergency call-outs, reduces the amount you spend and keeps the customer free from unnecessary disruption.
Get in touch
To discuss your water in, waste out solutions and how we can help you save time and money contact us on 0800 66 88 00 or visit www.metrorod.co.uk/commercial-drainage/facilities-management.