INDUSTRY SPOTLIGHT: Visualise and manage your safety procedures with Brady Link360
One of the biggest challenges in maintaining a safe facility is information management. There are Lockout/Tagout procedures, confined space permits, maintenance schedules and other important documents. They all need to be regularly updated and reviewed. Discover how you can easily manage your safety procedures with LINK360 Software from Brady!
At Brady, we provide personalised consultation services to improve employee safety, productivity and equipment reliability, both today and down the road.
Link360™ Software is the first software to give you a complete view of the activities associated with creating, reviewing and updating visual information.
Link360 Software enables users to create, scale, update and validate visually instructive safety procedures. The software provides an easy way to keep safety procedures accurate, compliant and sustainable in multiple facilities.
Create clear and easy-to-follow, visually instructive safety procedures
Quickly scale and deploy standardised and approved safety procedures across facilities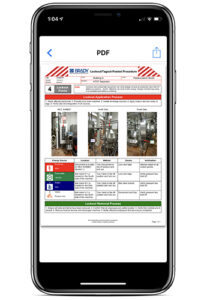 Interested? Go for free 30 day trial!
Easily complete procedures using a smartphone
The Smart Lockout App sends the most recently approved, and relevant Lockout/Tagout procedures from LINK360 to the smartphones of coworkers servicing specific machines. Via their smartphone, coworkers receive one lockout instruction at a time and can confirm its completion before receiving the next step. The smart lockout app can send a report back to LINK360 including all lockout procedure steps marked as completed.
Watch the short video and discover benefits of LINK360 Software >>
Visit Brady's booth at Safety & Health Expo in London, Stand SH1400 and discuss any workplace safety or facility identification topics with our specialists!